BlackBerry 10.2.1 introduced the ability to install APK files directly to your phone. APK files are the application files used by Android. This enables the installation of a wide variety of Android applications on your BlackBerry 10 device, whether it is a Z10, Q10, Q5, Z30, or something else. This was previously possible only through a lengthy and convoluted process, but it is now much simpler. Essentially, if you can't find an app in BlackBerry World, chances are it's available elsewhere.
Step 1: Find your APK
You can download the apk file from apkvenom.com.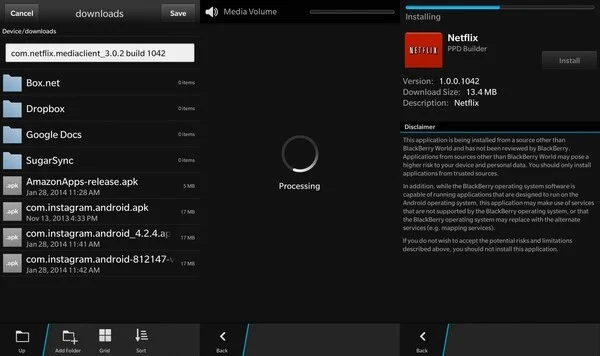 Step 2: Get the APK file on your BlackBerry
You can obtain an Android APK install file for your BlackBerry by visiting the source in your BlackBerry browser (the simplest method), e-mailing the file to yourself, or directly connecting your computer and phone via a USB cable.
Step 3: Install the APK file from your BlackBerry
If you downloaded the APK via your browser, the Downloads window should have already popped up asking for a location to save it and a filename; simply tap the file when it's finished. If the download window is not visible, it is simple to restore it. Tap the overflow menu button (three small dots) in the bottom-right corner, and then tap Downloads.
How to Install Apk File on PC, Computer [Step by Step Guide]
If the file was transferred to your phone in another manner, you can easily locate it by tapping the magnifying glass icon in the bottom-right corner of the home screen and typing ".apk" in the search box at the top. Everything you've transferred should appear in the Documents and Files result. Simply tap on the one you'd like to install.
After a brief "Processing" indicator, your Android application should begin installing. Install the app by tapping the Install button in the top right corner and accepting the pop-up window informing you of the device permissions required for the app to run.
How to Install Apk on Android TV Box [Step by Step Guide]
How to safely install an apk on a Blackberry?
BlackBerry recently released their latest operating system update for all of their smartphones. It enables users to install apk files downloaded from third-party sources on their Blackberry.
To begin, navigate to Settings on your BlackBerry Phone.
As you see it, click on the App Manager.
You'll see the option for installed applications.
Allow apps from other sources to install the apk files must now be enabled.
This enables the internal apk installer to perform apk file installation.
You must obtain a clean apk file from third-party sources.
You can obtain apk files from a variety of vendors who distribute apps in apk format.
Additionally, you utilize various app stores that offer free apk files.
Navigate to the download location for the apk.
When you click on the apk, you'll see an install button.
Simply tap on it and it will successfully install on your device within a few moments.
Enjoy the Android apk on BB!
Extra information
When installing an.APK for the first time, you'll be prompted to disable a security setting that prevents these files from being installed. When the installation is complete, the previous installation screen should reappear with a handy "Open" button in place of the "Install" button.
At that point, the app will appear alongside all of your other installed applications. Simply swipe from right to left on the home screen a few times to locate the icon and drag it to any folder or home screen of your choice. For a brief moment, hold your finger on the icon and drag it around. Additionally, you may wish to conceal the bar at the bottom of the screen. When the app is open, simply swipe down from the top and tap the Hide bar.
Now, keep in mind that there is no guarantee that these applications will perform as advertised. BlackBerry does not run Android; it is only capable of running Android applications.
BlackBerry 10's Android app player is quite capable and should handle the majority of what you throw at it. Experiment with things and let us know what works and what doesn't in the comments! Are you having difficulty installing something? You can also solicit assistance in the comments section!
Why are you using an Apk on your Blackberry?
This was received by Blackberry users. However, if you are not a user or have never used a Blackberry mobile phone and are considering purchasing one, you should read this. The Blackberry runs on its own operating system. As a result, previous versions did not support Apk or any other type of OS file.
Android is an open-source operating system that supports a wide variety of applications. Blackberry has released its most recent software update for its users. They can now run the apk files on their mobile phones as a result of the new update. You simply need to adjust a few settings.
Blackberry has a sizable user base throughout the world. In recent years, blackberry has been the primary competitor of the renowned mobile manufacturer company iOS. Users who wish to use apk apps on their BlackBerry OS device should update to the latest version available. To install an apk on Blackberry, you must have the BB 10 OS or later. You'll need to adjust a few settings on your BlackBerry handset in order to install the apk.